Welcome!
Kids need to use their imagination and toys, games and activities to spark their creativity and play interaction is just what they need. At Kids Playtime Fun, there are no video games here, just imaginative, constructive and interactive toys, playhouses, swing sets and more to help kids just be kids.
We have collected great products from several different quality vendors, so take your time to browse the store and get some great ideas. When you are ready to purchase, you will be taken to the main vendor where your purchase is safe and secure.
Welcome to our store!

Categories
Narrow your product search by choosing a category below.
Random Products
Not sure what to get? Here are a few random products.
Backyard Swing Sets
Modular and easily expandable cube play system provides children a great avenue have fun and strengthen their early childhood development. Modular system made of rugged plastic to withstand years of use indoors or outdoors.
The Backyard Obstacle Challenge is perfect for rentals and Indoor Centers with limited space. With features like blower tubes and exit gates on both sides of the unit it is versatile and easy to set up.
Thousands of balls create a rainbow sea of fun encouraging and rewarding movement exploration. All walls and edges are safely padded and constructed with gymnastic mat quality cross-link polyethylente. Includes 9000 balls.
Outdoor Playhouses
Little Cottage 10 x 16 Grand Portico Mansion Wood Playhouse
Little Cottage Sara Victorian 10 x 18 Mansion Wood Playhouse
Laurens Cottage Playhouse
Rocking Animals
Your little girl will fall in love with the precious Rock-A-My-Baby Rocking Horse. This rocking horse is a classic design with enchanting heart and teardrop cutouts. Side rails will help keep your child in the saddle and a tall backrest will let her rock away comfortably and securely. A boxed-in area behind the seat allows your daughter to take her favorite doll or stuffed animal for a ride. At such an impressionable time young children are attracted to shapes and colors and this rocking horse features soft colors and gentle curves that will capture and stimulate their imagination. With an enduring hardwood construction this horse can remain in your family as an heirloom for generations. Place your order for this instant classic that will rock its way straight into her heart!
About Tek Nek Toys Tek Nek Toys believes in the power of playtime! From their home in Southlake, Texas, they've been developing unique, multifunctional toys designed to stimulate creativity and encourage interaction since 1997. Tek Nek Toys arms parents with products that provide learning and growth opportunities in order to maximize their children's playtime. They understand that toys should not only be fun, but also a way for children to expand their imaginations, coordination and social skills. Tek Nek Toys is best known for developing innovative toys that are built to last … even in the playroom.
About Wonderworld by Smart GearAs a strong advocate of protecting the environment, Wonderworld insists on using only rubber-wood that is a replenishable source that's widely accepted throughout the world as an environmentally-friendly material. Rubber-wood is a by-product from the culling of rubber trees in excess of 25 years of age that can no longer produce latex for commercial application and need to be replanted. This means, not only is deforestation avoided, but every part of the tree is used to its fullest. Wonderworld strictly adheres to their policy of only non-toxic colors and lacquers on their toys. Wonderworld uses only water-based wood paint for their wooden toys. This minimizes child exposure to chemicals, use of underground fossil fuel, CO2 emission, and chemical waste released into the environment.
Battery Powered Riders
The Currie eZIP 1000 Electric Scooter is built for the young and adventurous. It has a deck for standing as well as a removable seat for long rides. With a top speed of 15 miles per hour as well as powerful rear and front disc brakes, you will be safe as you kick up the dust in your path. The front suspension fork of this black electric scooter offers a smooth ride. The EV rated advanced battery offers plenty of power to travel short distances. It comes with foldable handles, so you can easily store it in a car's trunk. The lightweight battery scooter has a sleek, cool design you'll love to show off to your friends and family. It also features low-profile Street Slick tires and charger port in the frame console. With a weight capacity of 260 pounds, the Currie eZIP 1000 Electric Scooter is ideal for ages 13 and older.
Mold your little outdoors-aficionado with the Peg Perego Polaris Sportsman XP850 Battery Powered Riding Toy. This miniature all terrain vehicle is the perfect little vehicle to take to the trails, with a 24-volt rechargeable battery, rugged shock-absorbing suspension, go-anywhere tires, variable speed accelerator, and two speeds: 3.5MPH or 7MPH. A flip-up backrest allows room for a friend, and the front and back luggage racks offer room for outdoor essentialsAbout Peg PeregoAfter the birth of his infant son in 1949, Giuseppe Perego was unhappy with the minimal selection of juvenile products and decided to design his own baby carriage. His wife added beautiful, functional fabrics, and the overall aesthetics caught the attention of other parents in the Peregos' small Italian neighborhood. They were inundated with requests by neighbors for carriages of their own, and Peg Perego was born. Before long, the company introduced high chairs, strollers, and other juvenile products. With each new product, the family commitment to quality continued. Always thinking forward, Peg Perego has never rested on past products or designs; it continues to stay current with parents' changing needs and new research that highlights the health and safety of infants and juveniles.
You may not think your kids are ready for their own Benz but it's time they get accustomed to the finer things. The Kid Motorz Black Mercedes Benz G55 AMG Battery Powered Riding Toy just might be the introduction to fine engineering that they need to provide the inspiration to go out and earn themselves a living one day. The interior is as luxurious as the real thing save the leather power windows and a few other things. It is MP3 compatible in case you were thinking we were joking. There is also a cup holder real side mirrors windshield wipers and decorative headlights. The chrome hubcaps and details are the cherry on top of this exquisite luxury riding toy. Charges in 8 to 10 hours for one hour of operation. About National ProductsAs recognized by peers National Products company is both a reputable and reliable working partner as well as supplier in the toy and ride-on industry. Most importantly not just children have fun with National Products ride-on products; parents also appreciate the detailed life-like quality and safety of the innovative designs. National meets or exceeds all safety/quality control government guidelines.
Inflatable Bounce Houses
The Backyard Obstacle Challenge is perfect for rentals and Indoor Centers with limited space. With features like blower tubes and exit gates on both sides of the unit it is versatile and easy to set up.
This race course inflates in minutes and provides a safe barrier for go-karts, rc cars and other 4 wheeled fun!
The 4 in 1 Sports Combo is easy to handle has terrific play value and has a great bounce area. This is a great unit for your rental business Church or just to own with a few friends or neighbors. Made of heavy duty commercial grade 18oz reinforced PVC Tarpaulin material.
Outdoor Games
With the Galaxy Titanium Side-by-Side Double Court Competition Volleyball Set there's no need for anyone to sit out. Keep practice games and tournaments full of constant ongoing action thanks to this superior set-up that includes two side-by-side nets and court areas built into one convenient unit. The Galaxy features superior performance combined with total portability thanks to 3.5-inch diameter uprights made from 100% titanium alloy. Used in everything from bicycle frames to golf clubs from submarines to airplanes titanium has long been known for its strength and portability; it's said to be as strong as steel and as light as aluminum. In other words with the Galaxy you'll feel comfortable while you're playing and while you're transporting the system! The Galaxy features a wormgear crank net tensioner and telescoping pistons which are spring-loaded for simple easy net height adjustment from 78 to 98 inches. There are two winch posts and one center stationary post. The included net is a knotless competition-calibre Kevlar net that stands up to rough play. Also included are padded rope covers chain net height gauge and upright padding in your choice of colors. For even more convenience choose a Galaxy system with floor sockets which install into the floor and let you simply drop the uprights in place: no lifting required. This system is covered by a lifetime limited warranty and meets all NCAA NHSF and USVBA rules and regulations.
About Spalding Founded by Boston Red Stockings pitcher A.G. Spalding in 1876, Spalding has been developing innovative products ever since. From creating the first American football, to producing the first basketball for Dr. James Naismith, to their latest advances in INFUSION technology (balls with built-in pumps), Spalding has been on the cutting edge of the sporting goods industry for well over a century. True to A.G. Spalding's vision, the company has delivered quality goods that reflect a commitment to workmanship in every finished product, every step of the way.
The Spalding AAI VS300 Elite Aluminum Volleyball System is professional-grade. This volleyball system is made of extruded aluminum and comes in a variety of powder-coated finish options that can take a beating game after game and look good for years. It features spring-loaded silver plate pistons that make adjustments easy, comes with a nylon leader strap to get the net set up in a flash, and has an adjustable height gear winch.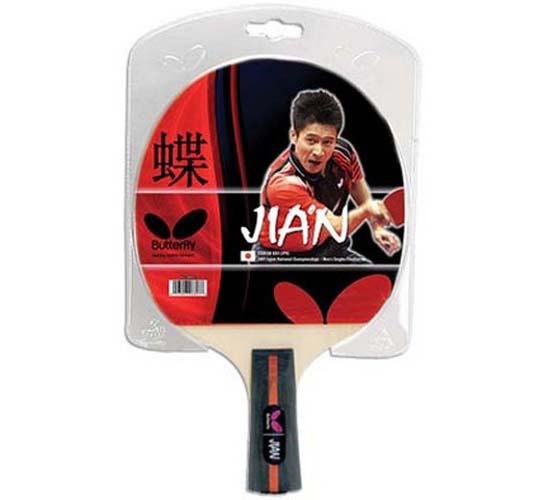 Suitable for play close-to-the-table. Ideal first racket due to its good spin and superb control. The backside is painted black making the racket legal for tournament play. Table tennis is widely popular in Asia. It is as popular as baseball, football and basketball are in North America. Traditionally, most players from Asia hold the racket as if they were writing with a pen, hence the name, penhold. A penhold racket is assembled slightly different than a shakehand racket in the following ways. It features rubber on only one side of the racket as a penhold player will traditionally use the same side of the racket to execute both a forehand as well as a backhand shot. Chinese penhold rackets look similar to the shakehand racket, but with a shorter handle. Japanese style rackets offer a slightly longer handle than a Chinese style handle and will feature cork mounted on top of the handle as well as on the backhand side of the blade for added comfort. A penhold racket is better suited for a penhold style player for the following reasons: Having rubber on only one side of the racket significantly reduces the weight of the racket. There is a gap above the handle where the fingers rest offering a more comfortable grip. The racket head is slightly wider and/or elongated compared to the head of a shakehand racket, offering an even weight distribution. Surface: Inverted Sponge: 1.5mm Addoy Speed: 55 Spin: 35 Control: 100 NOTE:The above item replaces this Butterfly Racket: MKP-8290 Tashika Extend the life of your paddle with the Butterfly Table Tennis Paddle Care Kit. You may also be interested in Table Tennis Balls .
The Real Good Toys Lancaster Dollhouse Kit makes it easy to create the dollhouse of your dreams! Precision workmanship is a result of precut engineered parts meaning you'll have wonderfully fitting pieces during construction. Grooved sidewalls allow for easy one-step assembly while the thick milled clapboard exterior walls create enduring support. Complete with movable room dividers that accept standard doors and wooden shingles for the roof this dollhouse also includes raised panel shutters and a door.Recommended assembly supplies:HammerFine-toothed sawScrewdriverGluesUtility knifeMasking tapeSandpaper: 100 and 320 gritPaintsPaint brushesRuler3/4-inch or 1-inch bradsStep-by-step instructions with detailed drawings are included. Shutters paint glue curtains and any landscaping or furnishings are not included.Overall dimensions include items that protrude such as roof cresting. This item is not recommended for children under 3 years.About Real Good ToysBased in Barre Vt. Real Good Toys has been handcrafting miniature homes since 1973. By designing and engineering the world's best and easiest-to-assemble miniature homes Real Good Toys makes dreams come true. Their commitment to exceptional detail the highest level of quality and ease of assembly make them one of the most recommended names in dollhouses. Real Good dollhouses make priceless gifts to pass on to your children and your children's children for years to come.
The pretty pink color and retro design of this kid sink will make your playroom a fun and inviting place for your children. The Retro Kids Sink features a realistic faucet with pretend cold (blue) and hot (red) levers. The stainless steel sink can be removed when it needs a real washing and the side towel bar can hold rags or hand towels for authentic kitchen play. The cabinet makes the perfect spot for storing play dishes. Your children will fall in love with the authentic look of this kid-sized appliance and you will appreciate the child-safety ventilation holes and the rounded kid-safe edges. Set a whimsical mood in your child's playroom with the Retro Kids Sink. Order yours today.About DextonDexton has been manufacturing distinguished high-quality children's musical instruments and ride-ons for over 10 years. Located in the Orange County area of Southern California its factories produce 50 of the most popular musical instruments to professional standards that music teachers prefer. Dexton also produces a wide assortment of battery-powered and pedal car ride-ons as well as children's furniture. Dexton uses the highest-quality wood leather and chrome-plated steel when manufacturing its safe kid-friendly products.
With its rich and luxurious fabric exterior the Solid Color Fabric Deluxe Toy Box can complement any room in your home. Used as a toy box storage bench or extra seat in your living room this beautiful piece will definitely find a suitable place in your home. The lid and sides are covered in textured chenille or microfiber suede. Your child can use the spacious interior for toys now and extra blankets and pillows when he or she grows older. The padded seat also makes a wonderful bench during story time or while putting on socks and shoes.The toy box frame is constructed from hardwood for durability and long-lasting strength. Safety hinges prevent the lid from slamming shut on little fingers and slots on the front and two sides make it easy to grasp the lid while opening. Choose from a variety of solid colors and fabric options to suit the style of your child's nursery bedroom or playroom.About Harmony KidsFounded more than 15 years ago Harmony Kids is based in San Fernando Calif. They produce high-quality children's and adult glider furniture designed to make life easier and more comfortable. This exceptional company is dedicated to providing their customers with complete and total satisfaction. All Harmony Kids products are proudly manufactured in the United States.
The Wood Creations Espresso Finish Toy Box doesn't necessarily need to be filled with toys. We think it would be kind of groovy to use it as a coffee table. Get it? If you do choose to fill the ample interior with blankets or toys the items will be well-protected by the handcrafted birch frame birch veneer paneling and optional cedar base. Fingers large and small will be protected by the safety-hinged lid that prevents slamming. A satin clear topcoat covers the dark espresso finish so this chest will remain a gorgeous piece of furniture for years to come. Which is a good thing as Martha would say. Because you'll never want to move this chest out of your home. The Wood Creations Espresso Finish Toy Box comes ready to assemble.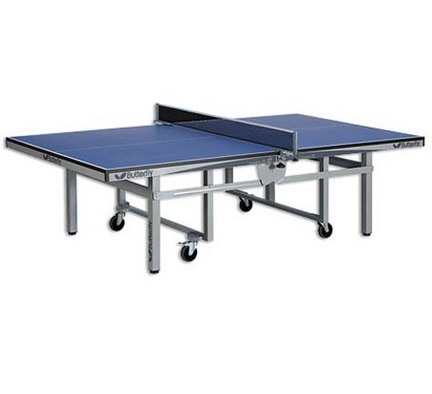 The official table of the 2001-2011 U.S. Open and U.S. National Championships. One piece fold and roll design that is perfect for those with minimal storage space and easy enough for one person to maneuver. The Centrefold 25 was also chosen as the official table of the 1996 Disabled European Championships, as the legs are placed 400 mm inward which complies with the ITTC ruling for wheelchair competitors. A 1 scratch-proof top that offers the most consistent bounce in our line. The top is protected by a hard PVC band and strong two inch steel rim. Steel frame with adjustable feet for leveling the table. Top/Rail: 1 wood top and 2 x 3/4 heavy gauge steel rails Legs and Feet: 2 square steel, adjustable feet Safety Feature: Table release lock Wheels: 5 locking rubber Net Set: Europa net set Weight: 375 lbs. 3 year warranty Made in Germany Freight charges apply and will be calculated when you check out. Freight items can take 1 - 2 weeks for delivery. You may also be interested in Table Tennis Balls .
What We Like About This Toy ChestOffering comfortable style and handy storage the Limited Edition Toy Chest has a large generous space for organizing toys games and books. The flip-top lid has a secure safety hinge to protect kids' fingers from getting pinched. Plus with a gracefully arched back the Limited Edition Toy Chest is sturdy enough to double as a bench for extra seating. The bench is perfect for reading time or for arranging stuffed animals for play or decoration. This versatile toy chest bench is crafted from durable Asian hardwood and finished in your choice of five attractive colors to match your child's nursery or bedroom. The simple traditional design will continue to be suitable for your child's room even as he or she grows older. Four casters are included to provide easy mobility. The use of the casters is optional. They can be left off for added stability. This toy chest meets all CPSC (Consumer Product Safety Commission) product tests for safety.This Limited Edition Toy Chest from KidKraft will make a practical and stylish addition to your child's room. Order yours today and take advantage of a great value. About KidKraftKidKraft is a leading creator manufacturer and distributor of children's furniture toy gift and room accessory items. KidKraft's headquarters in Dallas Texas serve as the nerve center for the company's design operations and distribution networks. With the company mission emphasizing quality design dependability and competitive pricing KidKraft has consistently experienced double-digit growth. It's a name parents can trust for high-quality safe innovative children's toys and furniture.
Get more for your money with this Extra Set of 2 Children's Chairs. Add this sweet classic set of two chairs to either the Lipper Rectangular or Round Table and Chair Set or use them on their own. Both boys and girls will enjoy this chair set. These chairs are crafted from solid beechwood so they'll stand up to tough playroom use for years to come. You can always use extra chairs for playtime and this classic style fits well anywhere. Choose from several finish colors.About Lipper InternationalLipper International provides high-quality woodenware bamboo ceramics resin magnets cast iron cookware and licensed products for M&M Pillsbury and Pfaltzgraff. Known for its functionality as well as for its beauty and quality craftsmanship Lipper International combines quality style service and value into every product and collection it offers.
Filled with regal Victorian charm the Real Good Toys Bostonian Dollhouse Kit - 1-Inch Scale will make a welcome addition to your collection. This stately home boasts a warm and inviting feeling and comes to you replete with extraordinary details. Shaped solid wood moldings add unique style to the extended floor edges and the staircases include elegant banisters. Other features include roof cresting wooden shingles for the roof expertly molded railings and porch posts and a raised panel on the door. This 3-story open-back model with 11 rooms boasts an impressive 10-inch floor-to-ceiling height. It's available in two different durable construction options. Choose between milled plywood and MDF wall finishes.This unfurnished dollhouse will take approximately 40 hours to assemble and finish. It comes complete with step-by-step instructions and detailed drawings and utilizes a unique assembly process with grooved connectors. Recommended supplies include a hammer fine-toothed saw glue utility knife masking tape sandpaper paint brushes ruler and elastic bands. This exquisite kit is suitable for use by collectors. As it includes small pieces it's not recommended for children under the age of 3.About Real Good ToysBased in Barre Vt. Real Good Toys has been handcrafting miniature homes since 1973. By designing and engineering the world's best and easiest to assemble miniature homes Real Good Toys makes dreams come true. Their commitment to exceptional detail the highest level of quality and ease of assembly make them one of the most recommended names in dollhouses. Real Good dollhouses make priceless gifts to pass on to your children and your children's children for years to come.
This samu wood Table & Stacking Chairs with Striped Umbrella from KidKraft has an attractive design just like patio furniture for grown-ups and will fit in with any backyard or patio. Sturdy reinforced construction prevents warping and gives your kids a safe shady place of their own.The four chairs included in the set stack up for convenient off-season storage and the umbrella fabric is UV-coated to keep it looking great all summer long. For picnics parties or just hanging out in the yard this umbrella table and stacking chairs will make your kids feel like they're part of the action.Treatment with an oil-based outdoor wood sealer will keep your table and chairs looking great. You can wipe up spills with a damp cloth and mild dish soap.Table 45.63L x 29.75W x 24.19H inchesChairs 13.63L x 13.63W x 25.75H inchesUmbrella 59.4H inchesAbout KidKraftKidKraft is a leading creator manufacturer and distributor of children's furniture toy gift and room accessory items. KidKraft's headquarters in Dallas Texas serves as the nerve center for the company's design operations and distribution networks. With the company mission emphasizing quality design dependability and competitive pricing KidKraft has consistently experienced double-digit growth. It's a name parents can trust for high-quality safe innovative children's toys and furniture.
The Melissa and Doug 6 Room Furniture Set comes with everything you need to furnish your dollhouse with Victorian charm. This package set includes furniture for the following six rooms: living room, kitchen, bedroom, nursery, bathroom, and dining room. Each piece is simple and elegant, yet exquisitely detailed. Together, these furniture sets will evoke a sense of familiar comfort and nostalgia. Please note that this furniture set includes small pieces and is not recommended for children under the age of 3.Victorian Living Room Set includes: Couch with 2 pillows2 upholstered chairsOttomanCoffee tableSide tableCurio cabinet Victorian Kitchen Set includes: 2 chairsKitchen tableSink and countertop4-burner rangeRefrigeratorBakers rackVictorian Bedroom Set includes: Bed2 nightstandsVanityWardrobeVictorian Bathroom Set includes: BathtubToiletSinkTowel rackVictorian Bathroom Set includes: CribRocking chairRocking horseCradle Victorian Dining Room Set includes: Dining table4 chairsChina cabinet About Melissa and Doug ToysSince 1988, Melissa and Doug have grown into a beloved children's product company. They're known for their high-quality educational and imaginative toys. The Melissa and Doug company has been named Vendor of the Year by such great retailers as FAO Schwarz, Toys R Us, and Learning Express, and their toys have been honored as "Toys of the Year" by Child Magazine, FamilyFun Magazine and Parenting Magazine. Melissa and Doug - caring, quality children's products.
What We Like About the Bandit Pro and Dart-Stop Octagon Set This dartboard set combines one of our most popular professional bristle dartboards with a durable and visually appealing octagonal backboard. The DMI Bandit Pro bristle dartboard is 100% staple-free which significantly reduces bounce-outs. It also features a movable number wire which extends the life of your board by allowing you to rotate it as certain segments begin to show wear. The Dart-Stop Octagon Backboard features 5/8-inch wood with carpet covering which covers the dart holes leaving no exposed wood to be marred by darts. Recessed pre-installed mounting brackets steel-reinforced mounting points and included fasteners ensure secure installation. This dartboard set offers appealing looks and lasting performance. You can even choose from among a variety of backboard colors to match your game room or home bar.